Home » Recover Corrupt Windows Backup
Recover Corrupt Windows Backup Files from VSS Bug Issue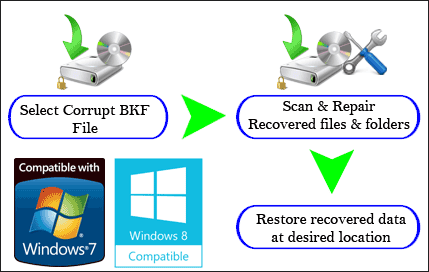 VSS (Volume Shadow Copy Service) of Windows XP and Windows 7 are quite different due to which you face problem to restore Windows XP backup files to Windows 7. The main functionality of VSS attribute is to generate snapshots of data stored on disk and to read that data from snapshots.

In this process; sometimes problems while backup restoration is encountered due to one or more VSS snapshots corruption while the user may not encounter any issue which backup creation. Under such situation, recovery of corrupted Windows backup file becomes a necessity.

Solution to Restore Corrupt Backup Data Is Right Here!
Key Features: Tool to Recover Windows Backup File
The software helps to deal with almost all issues causing BKF corruption and hindrance in restoration.
The software has potential to fix large size BKF file, no matter what the intensity of corruptness is.
The software offers "Extract" option that helps to easily save the required data from the recovery resultant.
The software offers Quick Scan, Deep Scan and Range Scan option for time saving and through recovery of data.
Download Windows Backup Restore Free Edition: Examining the potential of tool to recover damaged BKF file is easy, safe and free. Download the demo version of our solution for recovery of corrupted Windows backup files that will give an opportunity to operate the tool and preview recovered backup file content. To save it, invest in full version of the software.